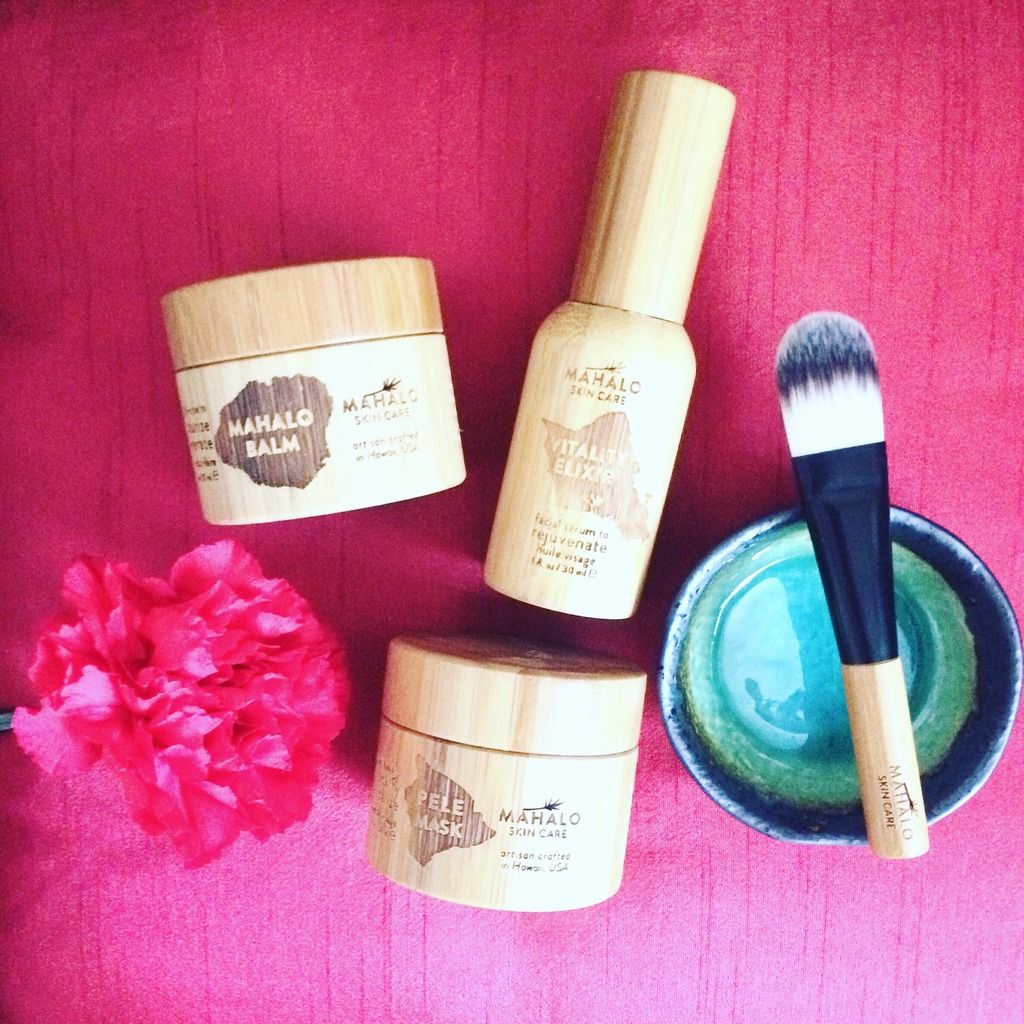 I love Mahalo, if only for their beautiful packaging, but they also have the most luxuriously delectable and effective products. Today I want to focus on the Mahalo trio: Pele Mask, Vitality Elixer & Mahalo Balm. Los Angeles winters are mild but the air is definitely a little drier and that's been affecting my skin. I've been using this trio though faithfully this winter and the combination has been keeping my skin refreshed and moisturized.
Mahalo Pele Mask
I use this about once a week by mixing the powder mask with equal amounts of water in the beautiful Mahalo turquoise bowl with a brush. The mask activates by swelling and bubbling and then I apply it all over my face and neck. I leave it on for about 30 minutes and it takes a little bit of elbow grease to remove because particles get stuck on my skin but with a good cotton washcloth, it does scrub off and then ta da, the most delightful feeling when my freshly detoxified face is revealed. It really does appear as though I just had a facial.
The effect is no surprise when you consider the mask is made up of 26 high-performance ingredients that are certified organic or wild harvested. Volcanic ash clay, raw cacao, black lava Hawaiian salt, papaya, hibiscus, and a host of other gorgeously island ingredients contribute to the mask's transforming abilities. Goodbye tired skin, hello refreshed, radiant glow.
Mahalo Vitality Elixer
This gorgeous gold facial serum is for the morning and nighttime. I use it after I clean my skin by pressing a few palmful drops of the Elixer into my face and neck. I'm only been using this for only a little while but already my skin looks more moisturized and glowly. This serum is filled with omega-3's and antioxidants to help combat aging and environmental damage. Polynesian Tamanu and CoEnzyme q10 makes this a super oil that is ultra luxurious.
Mahalo Balm
This golden balm is so moisturizing and good to patches of dry skin. I use this after the Vitality Elixer and apply it sparingly all over my face, neck, and décolleté. It melts on my fingertips and is oh so lush on my skin and helps regenerate my complexion with turmeric, macadamia oil, Tamanu oil, rosehip oil, beeswax and a variety of good for you ingredients that add up to 23.
This Mahalo trio is definitely high performing and I'm so glad I'm using them because the experience is soothing and calming and the results are exciting to behold.